Escrow Agreement: why it is beneficial to your business?
min read
•
published on
•
updated on

Escrow Agreement: why it is beneficial to your business?
What is a software escrow agreement?
A software escrow agreement is a contract between a software supplier and their client that grants the client access to the supplier's software source code in the event of supplier deficiency (bankruptcy for example).
Normally, the software provider ("digital asset owner") entrusts their digital asset with a third-party ("software escrow agent") who will then safekeep and release it to the client ("beneficiary") upon the occurrence of a pre-defined event. This guarantees the continued use, maintenance and updates of business integral software in cases of bankruptcy, insolvency, change of ownership and maintenance or support issues.
Having a software escrow agreement in place helps to protect all parties involved. But let's look at the benefits for each of the two parties in more detail.
Software beneficiaries: what are the benefits?
Entering into a software escrow aims at ensuring the continuity of business for the beneficiary. This is the common incentive among most beneficiaries for entering into an software escrow agreement, no matter the type of beneficiary.
Beneficiaries may take the following forms:
➢ A licensee of the digital asset owner. Digital assets are essential components of a company's business that either use them or obtain licenses for their use from the owner. However, if the owner goes bankrupt or fails to provide the agreed service, the licensee may find itself in dire straits and not able to continue its own activities. Having the source code placed in escrow enables the licensee to continue using the software in order to maintain its business activities.
➢ An indepednant software vendor (ISV). When an Independant Software Vendor enters into a distribution agreement with an important distributor, such distributor may be reassured if the source code is placed in escrow so that it can continue to manage the distribution of software in compliance with the distribution agreement if the Independant Software Vendor were to file for bankruptcy or fail to provide the agreed service.
➢ The potential buyer of digital assets from its owners. Until the acquisition transaction is finalised, it is risky for a company to disclose the contents of the source code. By placing the source code in escrow, the buyer is able to ascertain that they will in fact be provided once payment for the transaction has been completed, and the seller need only disclose them to the buyer once the transaction is successful.
➢ Investors or banks. As digital assets become more liquid and valuation tools improve, creators of such assets may obtain investments or loans from investors or banks in order to build their assets and/or expand. These investors or banks may accept the digital asset as collateral (regulations around the world are evolving to take effective security over intangible assets) and want to use a Software Escrow to access such assets in the event that the creator of the asset goes bankrupt or disappears. The Escrow would act to complement the security that they might take in the digital asset. One can also imagine government programs that would promote new technology through loans and advances provided security and Escrow are put in place.
➢ Co-developers and co-owners (where several companies are involved in the development of a software). Where there are multiple owners of a digital creation or asset, including across multiple countries, being able to place the asset with en independant trusted Source Code Escrow provider ensures that any/all the co-owners can access the whole asset if certain pre-conditions are met.
➢ Licensees of multiple digital assets (or Private Equity that specialise in new technologies) can use the Escrow system to better manage their portfolio. Today most companies use multiple suppliers of software. In order to effectively operate its business, for example, a company may depend on different pieces of software working together. Each piece of software may belong to different software providers. If any one of these providers went bankrupt, the whole business could come to a halt. As a result, a licensee of multiple software may want to have a centralised third-party system to ensure that these assets are protected. To achieve an efficient management of all these dependencies, a Software Escrow agreement, including all licensors of software to the beneficiary, can be implemented.
➢ The owner of the asset itself. If the owner is a Company and its key employees are creating the digital asset, placing the asset in Escrow as it is created or updated, by automating deposits through integration with development platforms such as GitHub, GitLab, Visual Studio or Azure, ensures that a third-party software Escrow Agent holds a version of the asset and if a key employee should leave or the owner disappear, the asset will be retrievable.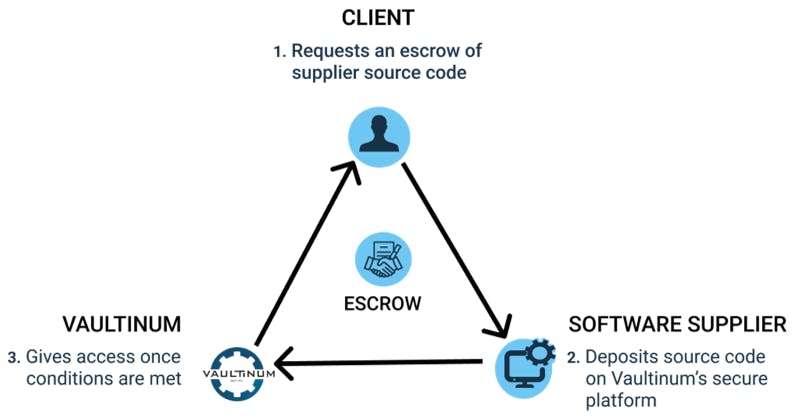 Get started
Digital Asset Owners: What are the Benefits?
When setting up a software escrow, an Independant Software Vendor protects their digital asset, not just for the benefit of a potential beneficiary, but also for themselves. This is because placing a digital asset in source code escrow offers the following inherent protections:
➢ The escrow agent provides a certification as to the date the asset is deposited with them. This is essential to claim software copyright protection as it establishes a start date for the creation of the asset.
➢ Depositing an asset with a software escrow agent benefits from a presumption of ownership, which makes it easier to prove ownership of such asset in the event of a dispute.
➢ The software escrow provider stores in its vaults essential or valuable assets. This effectively constitutes a secure back up for the digital asset.
➢ With more and more contributors to the development of one source code, depositing new versions of the digital asset over time serves as a consolidator and a chronological marker for key development stages.
➢ Using a third-party software escrow provider to check and control a deposited digital asset is a way to ensure that a company's internal processes for developing and documenting an asset have been followed properly.
➢ Creations typically take time and are produced sometimes over long periods using various technological tools and platforms. The best software escrow providers are tech savvy and can interface with such tools and platforms in order to seamlessly update the creation on a continuous-flow basis. This enhances the intellectual property protection for the work since it is registered as it is created and ensures automated back-ups.
➢ Placing a software source code with an escrow agent as a matter of course (as the asset is being developed, such as by automated deposits through integration with software development platforms) enables the quick implementation of software escrow services.
➢ New users of digital asset placed under software escrow, can, depending on the software escrow agreement, become beneficiaries without having to complete other formalities with the software escrow provider.
Vaultinum's Escrow Solution
With the countless benefits we've explored above, combined with the growing pressure to avoid catastrophic tech failures that can have catastrophic effects on business, organisatoins of all sizes should be considering software escrows as part of their overall risk management strategy.
For beneficiaries, using an Independent Trusted Third Party such as Vaultinum as a software escrow service provider, means that your business-critical software will remain safe, secure and accessible in the event of supplier failure, helping to protect your reputation, operations and minimising the cost of any downtime.
As a digital asset owner, Vaultinum's software escrow solution not only gives peace of mind that your source code will be safely encrypted and stored using the AES 256 encryption algorithm, but also gives you the tools to create a circle of trust between you and your clients.
Since 1976, thousands of digital creators, businesses and investors have trusted Vaultinum to secure their innovations and protect their intellectual property while ensuring the continuity of their business activity. Speak to us today to discover more about how we can do the same for you.
Speak to the team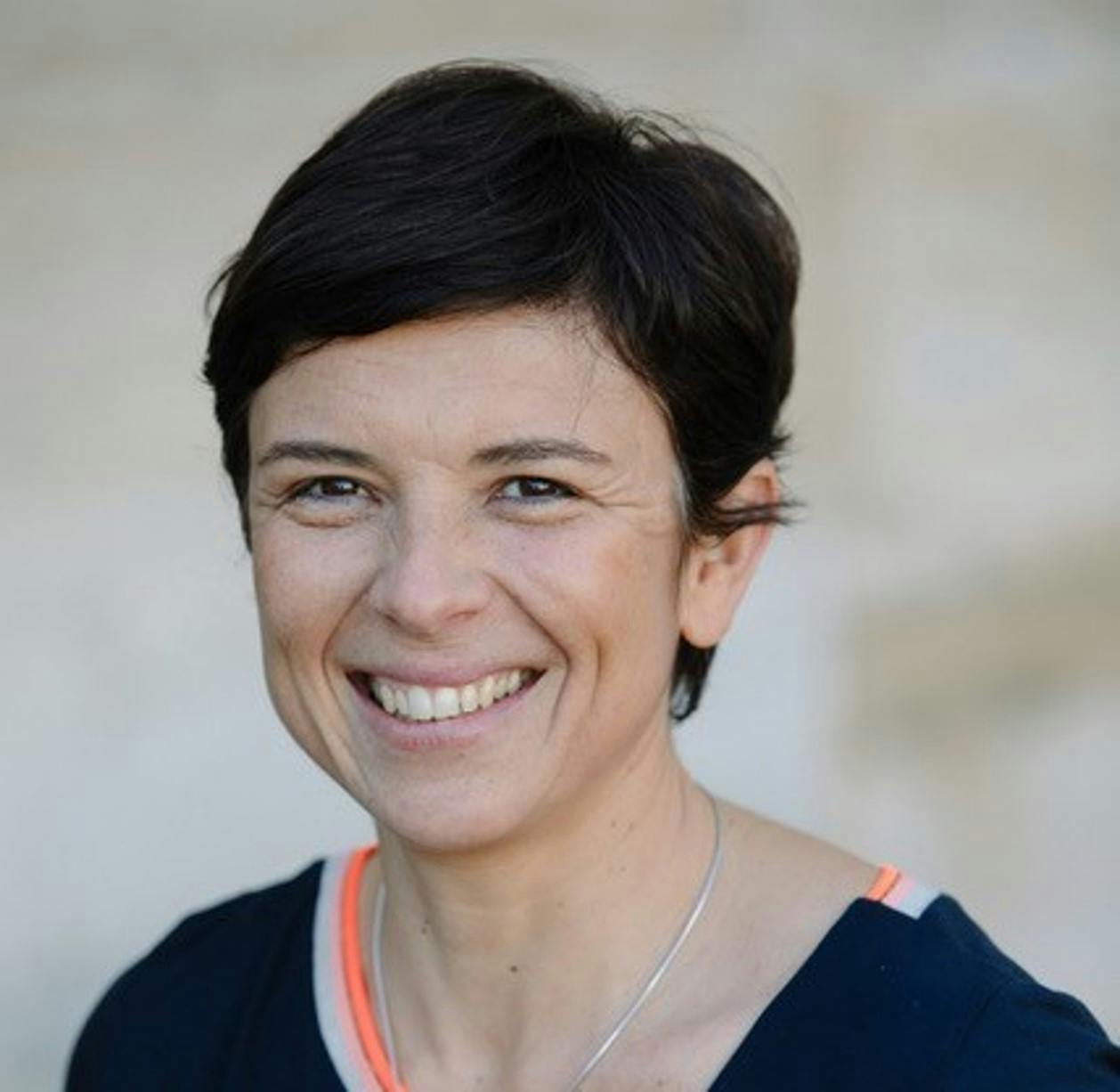 Marine Yborra
Marine is our Marketing Director. She is a branding and brand activation specialist with international experience in BtoB and BtoC.