Watch our video to see how Software Escrow Services work at Vaultinum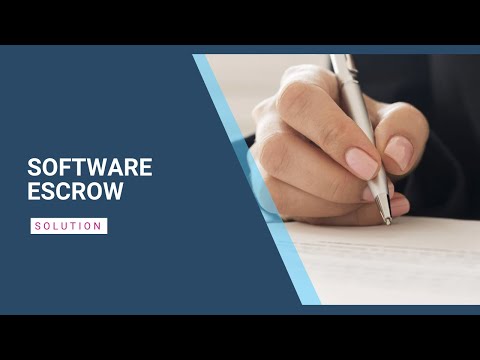 Peace of mind for all parties
Why Make a Software Escrow Agreement ?
For Software Vendors
Whether you have decided to enhance your own offering or you're fulfilling a client's request, a software escrow is the smartest step towards:
adding credibility to your business while also
ensuring that your intellectual property rights are protected.

Software Vendors
We know that your source code is the "crown jewels" of your business, so handing it over can seem daunting. Call it a necessary evil, but when clients are purchasing and relying on business-critical software that cannot be easily replaced or replicated, offering the availability of an escrow agreement can make the difference in gaining the contract or losing out to one of the many competitors out there.

On top of offering a competitive market advantage, a software escrow also ensures that your intellectual property is protected. With every software escrow agreement, Vaultinum dates and time-stamps all materials deposited into the escrow, creating an audit trail which provides proof of ownership of the related intellectual property. As a trusted, independent third party Vaultinum can then vouch for the existence and ownership of your intellectual property, should any copyright infringement claims occur.

When entering an escrow agreement with Vaultinum, you know that your source code will be in safe hands with a European trusted third party software escrow service provider with 45 years experience in the protection of digital assets. With ISO 27001 certification, the use of asymmetric encryption and a unique double expertise in IT and legal, our clients benefit from the highest levels of security and protection for all their sensitive assets.
For Software Clients
With growing dependency on software across all businesses,
an escrow agreement will guarantee you access to the deposited source code in the event of supplier failure
allowing for continued use of the software and ensuring business continuity.
Software Clients
Most businesses, regardless of the sector, rely heavily on at least one critical application. From CRM systems to financial software, without the smooth and continuous co-operation from your supplier of your software, your business runs the risk of being left in the dark.   This can often occur as a result of supplier bankruptcy, insolvency, change of ownership, maintenance or support issues and even discontinuation of a specific software.

By having a software escrow, such events, known as release conditions, are agreed to in advance and formalised. If a release condition does occur, an escrow for software will ensure that you are granted access to the deposited source code. As trusted, independent third party software escrow providers with 45 years experience in the protection of digital assets, Vaultinum ensures that your business-critical software remains safe, secure and accessible in the event of supplier failure.

With Vaultinum as your software escrow agent, you can rest assured that your reputation and operations are protected and the cost of any downtime is minimised.
our clients
They Use Vaultinum's Software Escrow Services