INDUSTRY REPORTS
IP Audit report example
In today's knowledge-based economy, up to 80% of a company's value is derived from intangible assets such as intellectual property (IP). These assets include patents, trademarks, copyrights, and trade secrets that can be crucial for driving business growth and maintaining a competitive edge. To protect these valuable assets and maximize their potential, companies should consider conducting regular Intellectual Property audits to review IP assets and their management, identify any potential legal risks, ensure proper ownership, and help businesses make informed decisions about their IP portfolio. 
Vaultinum's software IP audits provide a 360° analysis of IP risks linked to software and open-source. Download a software IP Audit example and see the insights Vaultinum can provide.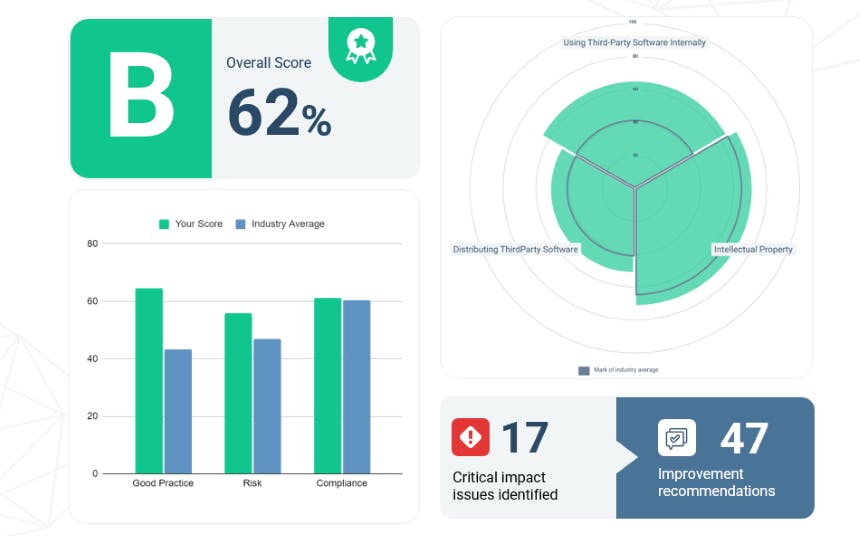 Fill in the form to get the report
Manage your software IP risk ​
Vaultinum's Software IP Audits help Legal Officers and IP Lawyers identify and manage IP risks linked to software and open source usage
This IP Audit report includes:
Overall performance rating as compared to the industry​
Key IP risks and suggested remediations​
Type of open source used, compatibility and risks involved
Operational action plan, with associated cost and timing
Get more information on the process of an IP Audit
About Vaultinum
We are a trusted independent third party specialised in the protection and audit of digital assets.
Since 1976, we have enabled thousands of digital creators, businesses and investors secure their innovations by providing solutions to protect their intellectual property, ensure the continuity of their business activity, provide digital proof of event, and mitigate IP, cyber and software risks.